You may have seen a number of UX portfolio examples online but you are still not sure what makes them work.
Is it the colors, the layout or the type of projects?
I am starting a series on UX and UI portfolio teardowns on the blog that you might benefit from in order to ultimately get a job. Will take guessing out of the way and focus in on what really works to land a job.
Today I look at Cedric Ith's UX portfolio by quickly exploring his website, a single project and resume, to tease out the portfolio elements that helped him secure internships at Google and Microsoft. You might not be targeting these companies (You don't really rate them ;)) but there is still alot you can learn from how his portfolio is structured and translate that to your portfolio.
UX Engineer and Interaction Prototyper. Exploring VR/AR/MR.
This is not a comprehensive teardown but structured in such a way as to simulate a recruiter, potential team lead or creative director who have to go through a 50 resumes a day.
Ready?
Let's begin!!
Portfolio Website
Let's dive into a project
Since the first one has a high likelihood of being selected. Will go for that one.
And lastly for the resume.
Seeing more work presented in case study format would be so helpful. Major bonus points for an animated prototype/flow. There are more than enough tools out there to add motion to your work (Principle, Framer, Flinto, etc.). Also, positioning yourself properly in terms of skill and experience. Trying to come off incredibly senior when you're actually quite junior could end up hurting you. Be honest about the work you've done, what you've learned, and the things you're interested in learning more about.
Oliver Brooks
Creative Director
- Metalab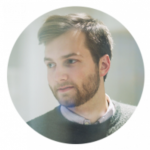 Takeaways
So what lessons should you take away from this UX portfolio example?
Recruiters don't have a lot of time to read through your portfolio. Ensure your best and most relevant work is the first one listed.
Have a download link to your resume.
Use testimonials as powerful social proof.
Use language that is understandable for your headings.
2–3 really good portfolio projects are enough to get you an interview and possibly the job
Between you LinkedIn, portfolio website and resume, ensure you use a consistent and relevant job role throughout.
Identify job keywords and ensure your resume has them.
List your experience first as this is what is most relevant to a recruiter or employer.
If you really liked this post and want to see more of these, drop me a comment or just share this page.
Cheers!!