Updated for 2023

Have you ever looked for free UX design tools online only to find that the software has a trial version for 30 days or asks you to start a trial with your credit card?
Definitely not helpful.
So I decided to compile 5 UX Design tools that are actually free wireframing tools and free prototyping tools. Most of these UX design tools are open source which ensures on some level that they are free. Are they the best free wireframing tools out there? Debatable but a really good start if you need a UX design tool that you don't have to pay for. I explain what you can do with it, what other people have to say and share a tutorial so you can have a good feel for the tools.
5 Free UX Design tools in 2023 that are actually free
Pencil Project
Mockflow
Wireframe.cc
Fluid.ui
Moqups

Semi-free


Figma
So let's dive in.
An open-source GUI prototyping tool based on the Mozilla platform that can be used to create site wireframes and mockups.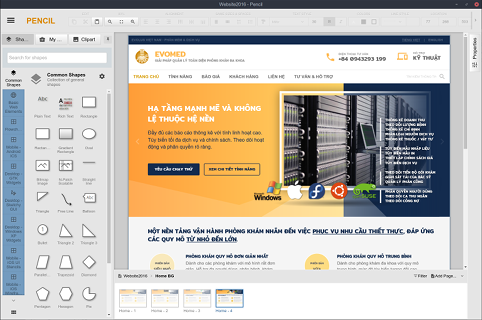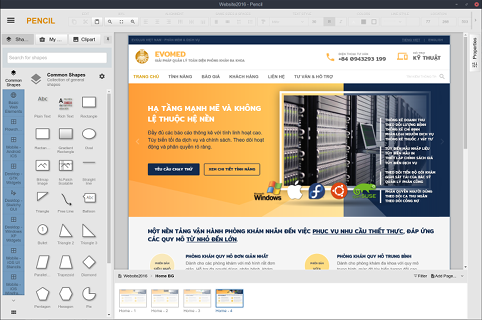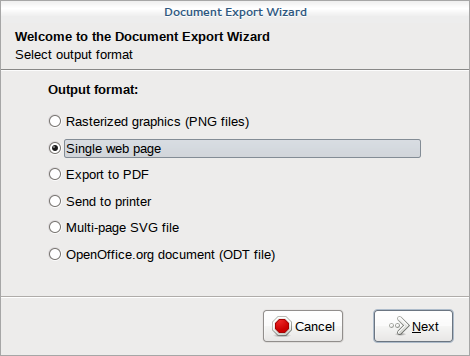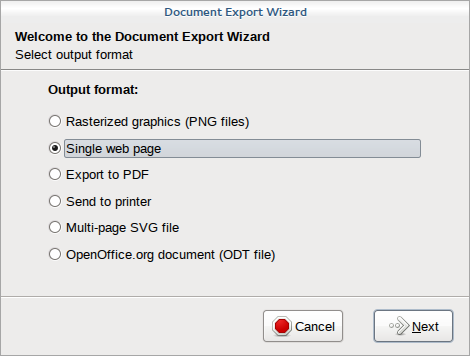 What can you do with it?

Wireframe creation
Flowchart/Diagramming
Drag & drop
Templates
UI prototyping
What users of Pencil have to say


Pros: Pencil project is an Open Source software with multiplatform support
It has an important library of shapes for the creation of models and interfaces, with the look and feel of the most popular systems and platforms such as Android, IOS and Windows.
It has extensions to be worked from the web browser Mozilla Firefox
allows linking between the sheets of a project to optimally simulate the browsing experience between the screens of the model
Cons: As graphical elements are inserted in the multiple sheets of the documents tends to put the software slower


Pros: The ease with which this tool can be used offers impressive results and in a very friendly way. You do not have to be an expert to use it, you just have to be clear about what you want to do and the tool makes everything easy for you.
Cons: I have no problems for this product as it is the perfect tool for flow charts. It is very easy to use.
Overall: Speed when starting my personal and professional projects.
Speed when building flow diagrams.


Pros: Very intuitive. Great variety of icons. I don need to know about sistems development in order to working with it.
Cons: I think that its not easy to download. I couldn´t download my work in another format like .pdf or .jpg.
Overall: To learn about sistems design. To make templates and mockups for my tecnology project. To express graphically process in a sistem.
Get a feel: Pencil wireframe tutorial

Site address: https://pencil.evolus.vn/
Web-based solution offering wireframe drag&drop editing, template library, real-time collaboration, wireframe export and sharing tools.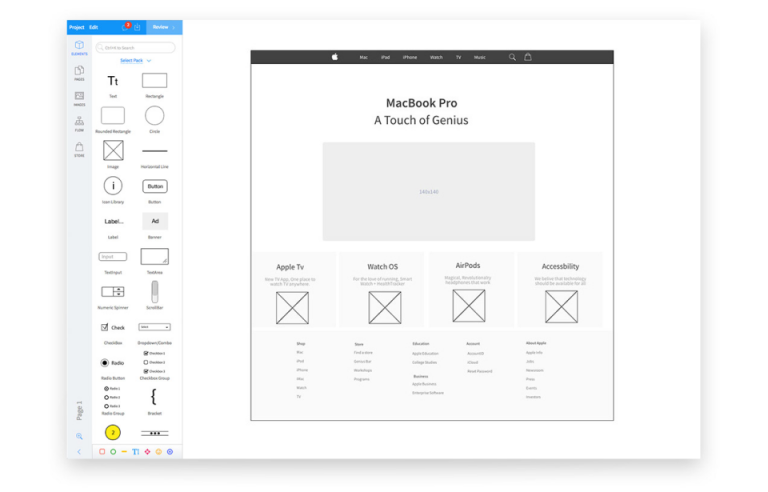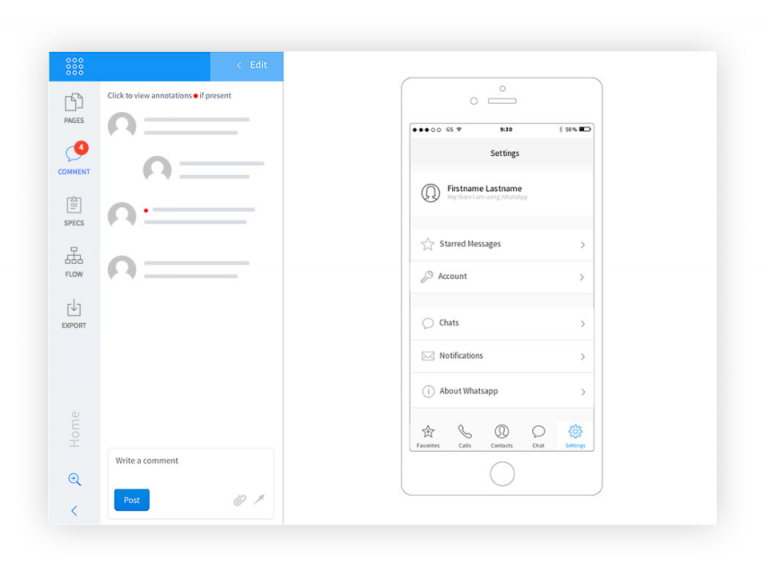 What can you do with it?

Wireframe creation
Collaboration
Presentation tools
Drag and drop
Feedback management
What users of MockFlow have to say


Pros: You have everything you need to plan and design your web / mobile development project in one place. Has
A free plan that is more than generous so anyone can start using it.
Amazing tools and presets to do about any wireframe you imagine.
Cons: Not many cons with this, the only comment I would have is to improve the copy and paste, it uses some sort of flash technology, understandable with what it offers but it can get annoying when you're used to right hand click copy, and it does not show the copy or paste so you have to do a CTRL+C and CTLR+V to paste. (this might be a Firefox only related issue, just saying)
Overall: I was in a rush 5 month ago to plan a large web / mobile application for a client. I use a lot of wireframing tools depending on the project, but I wanted to try something new and had seen mock flow a few weeks back so thought why not give it a try. At this time I was mostly looking for speed, to catch up with the planning stage. Within 1 hour of playing with the wireframing tools, I had designed 30% of the project. At this point I was sold, and had already bought the license and am I glad I did, it opened up access to all the other tools such as able to see a site map of your application designs with one click, with other tools I always had to draw those by hand, now I can just export. It also gave me access to a website builder, design collaboration and annotation, banner designer and timeline manager. This puts everything I need to get this project from planning stage to production in one place. Love it, keep up the great work!
Get a feel: MockFlow tutorial interaction
Site address:https://www.mockflow.com/pricing/
Wireframing software providing unique url for sharing and bookmarking, version control, annotations, click and drag drawing.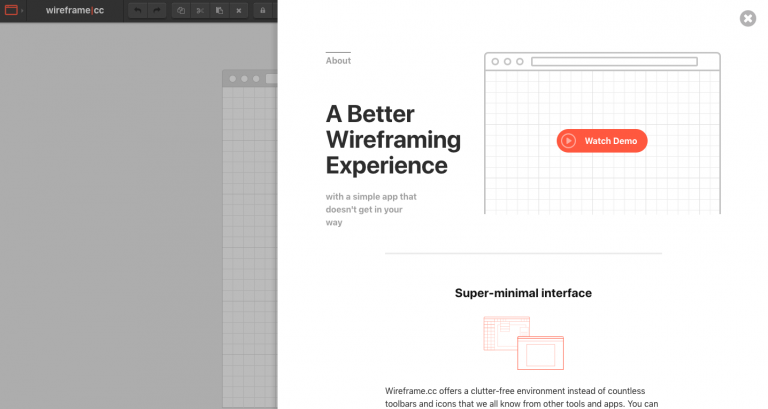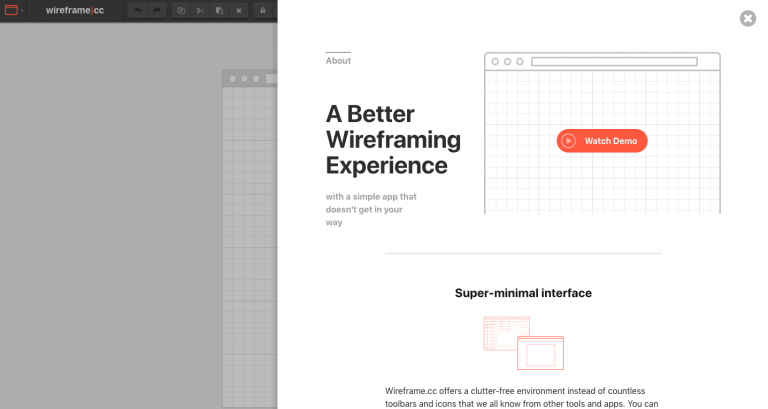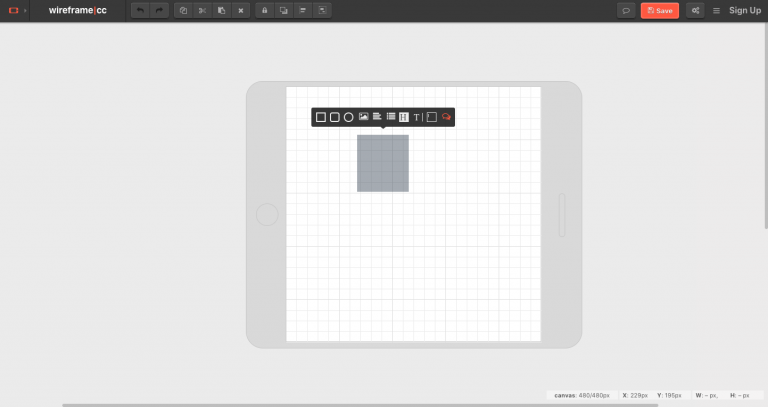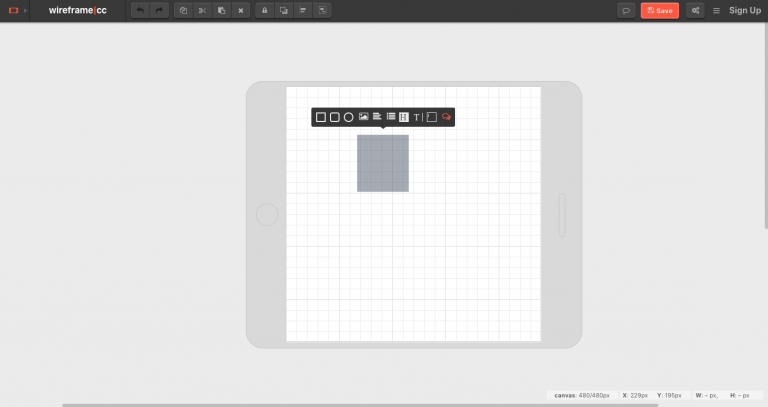 What can you do with it?

Wireframe creation
Collaboration
Revision history
Interactive elements
Mobile interface
What users of Wireframe.cc have to say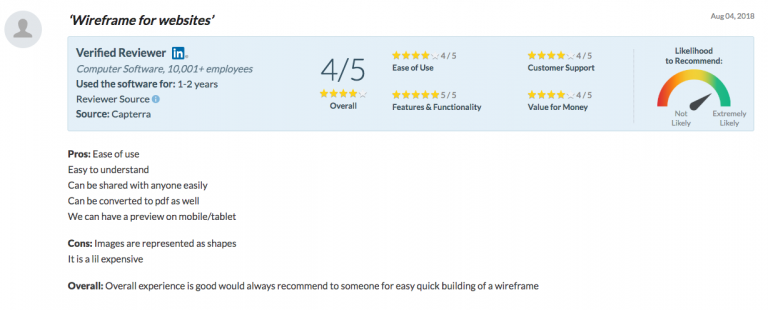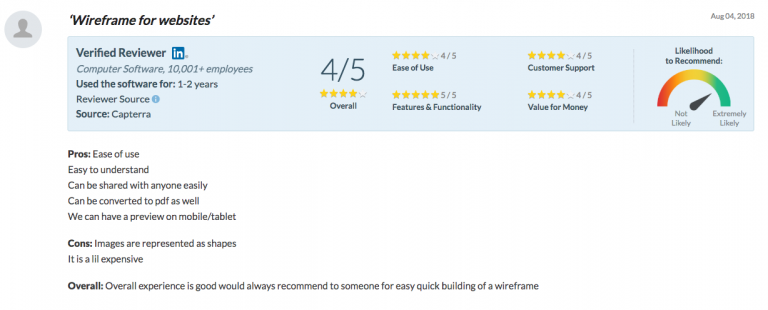 Get a feel: Wireframe.cc  tutorial and examples
Site address: https://wireframe.cc
A tool that allows you to design prototypes, wireframes, mockups and collaborate in real time.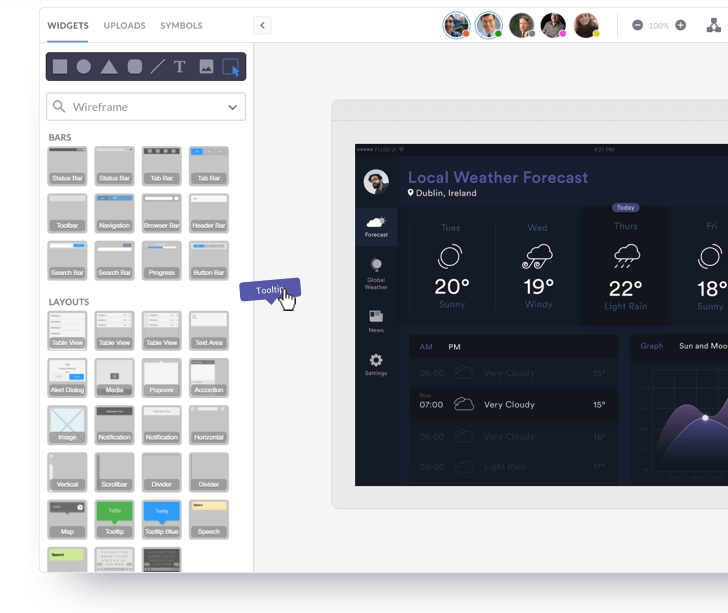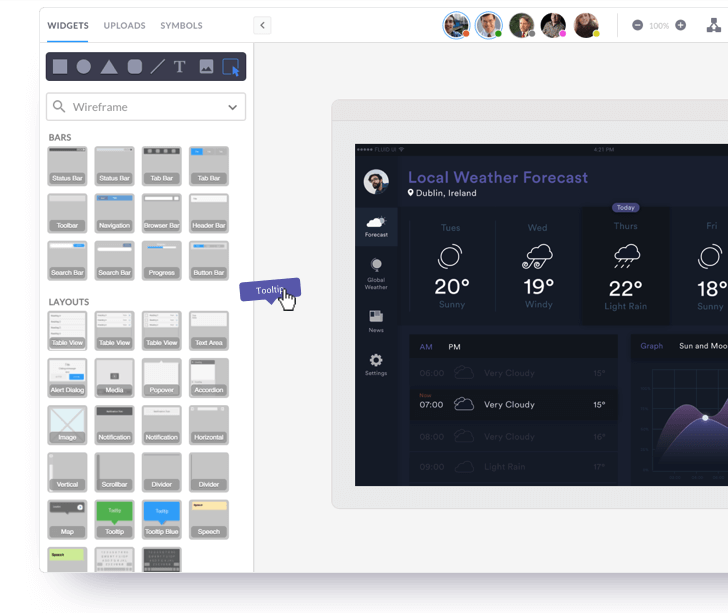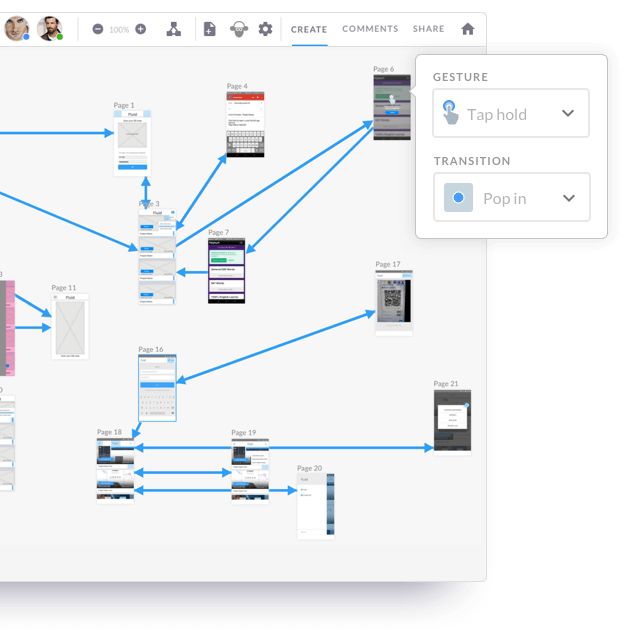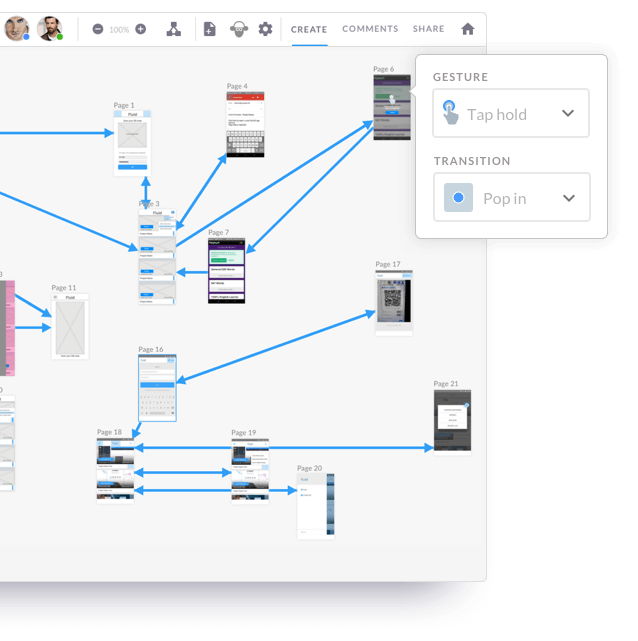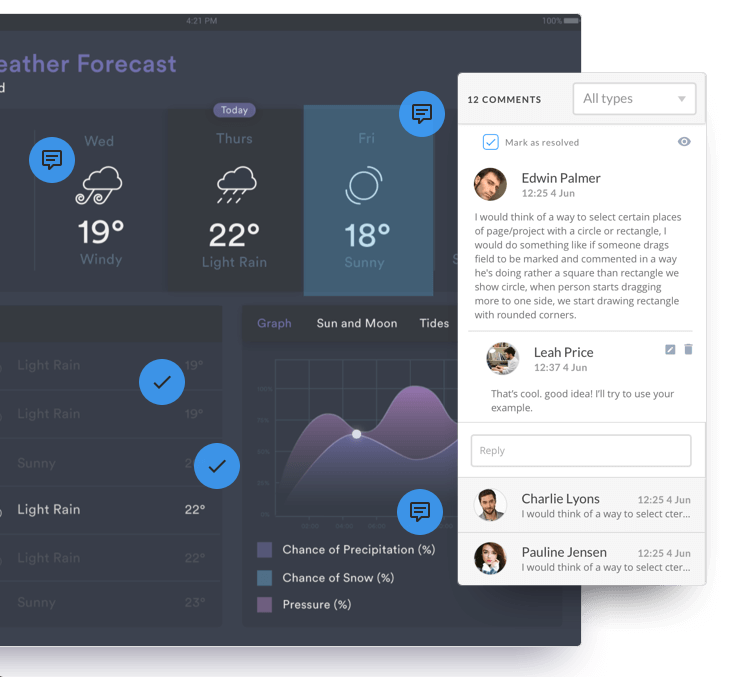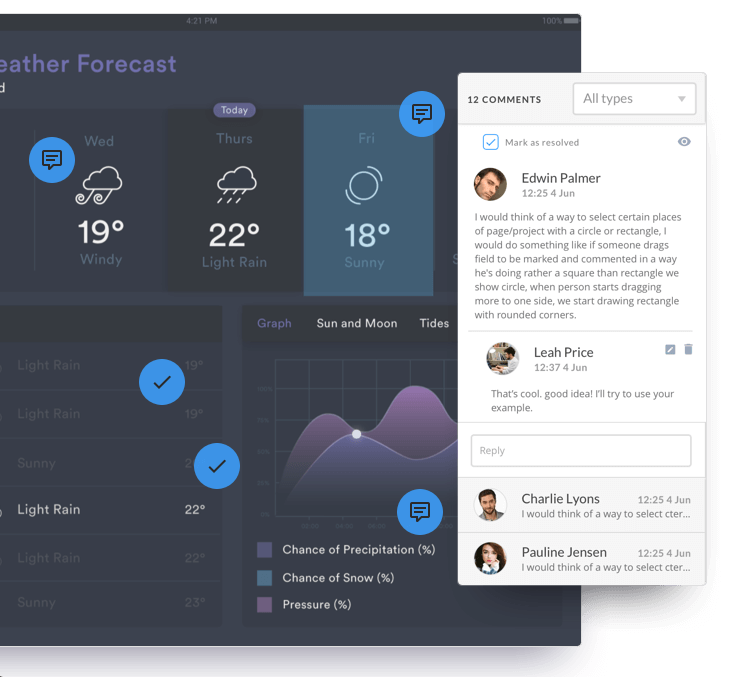 What can you do with it?

Wireframe creation
Collaboration
Drag and drop
Revision history
Screen capture
Prototyping
Usability testing
Interactive elements
Mobile interface
Feedback management
Page linking
Site address: https://www.fluidui.com/plans
A streamlined web app that helps you create and collaborate on wireframes, mockups, diagrams and prototypes.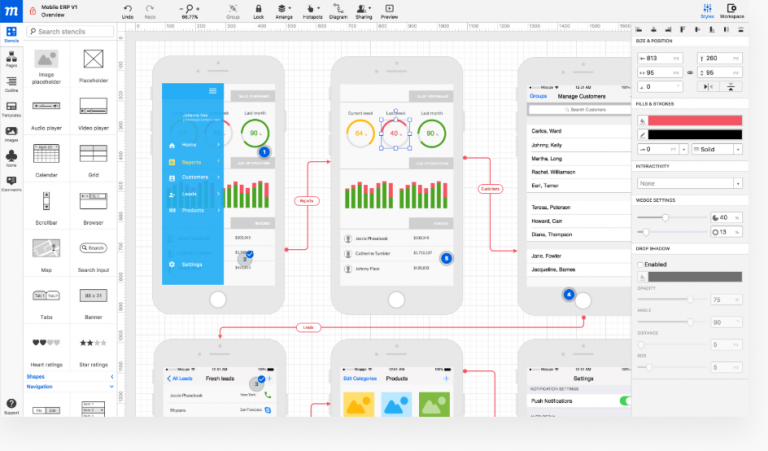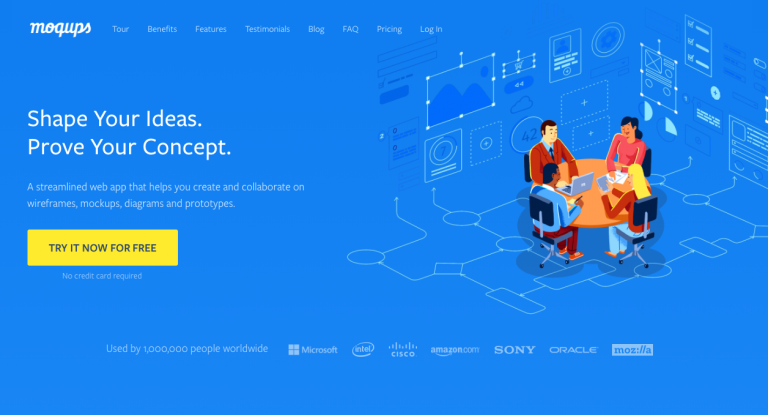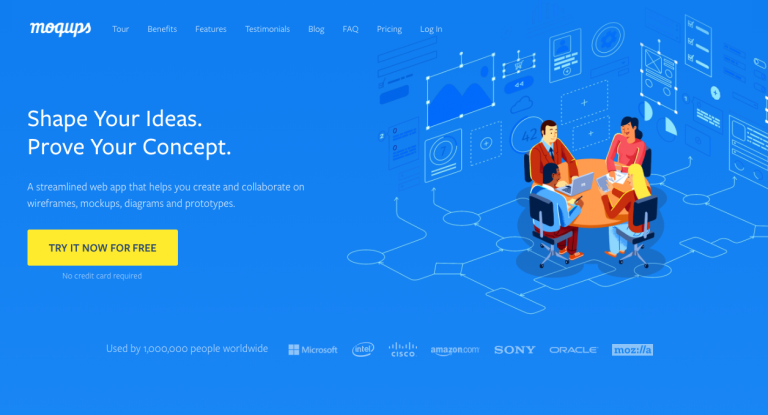 What can you do with it?

Wireframe creation
Collaboration
Drag and drop
Prototyping
Diagramming tools
Flowcharts






Get a feel: Moqups tutorial and examples
Site address: https://moqups.com/
Figma is a semi "free", online UI tool to create, collaborate, prototype, and handoff. Figma lives in the browser and works on Windows, Chrome, Mac, and Linux. All of your work is autosaved which you can access with Figma's version history. It's lightweight, fast and doesn't need to be installed to use or share files.
Figma has a Starter package on its pricing page that has the following offering
3 Figma and 3 FigJam files
Unlimited personal files
Unlimited collaborators
Plugins and templates
Mobile app
Site address: https://www.figma.com/
Now it's your turn
I hope you enjoyed my list of 5 free UX design tools, that are actually free in 2023.
What to read next:
Check out my other reviews
Axure vs Sketch: What the best tool for a UX Designer